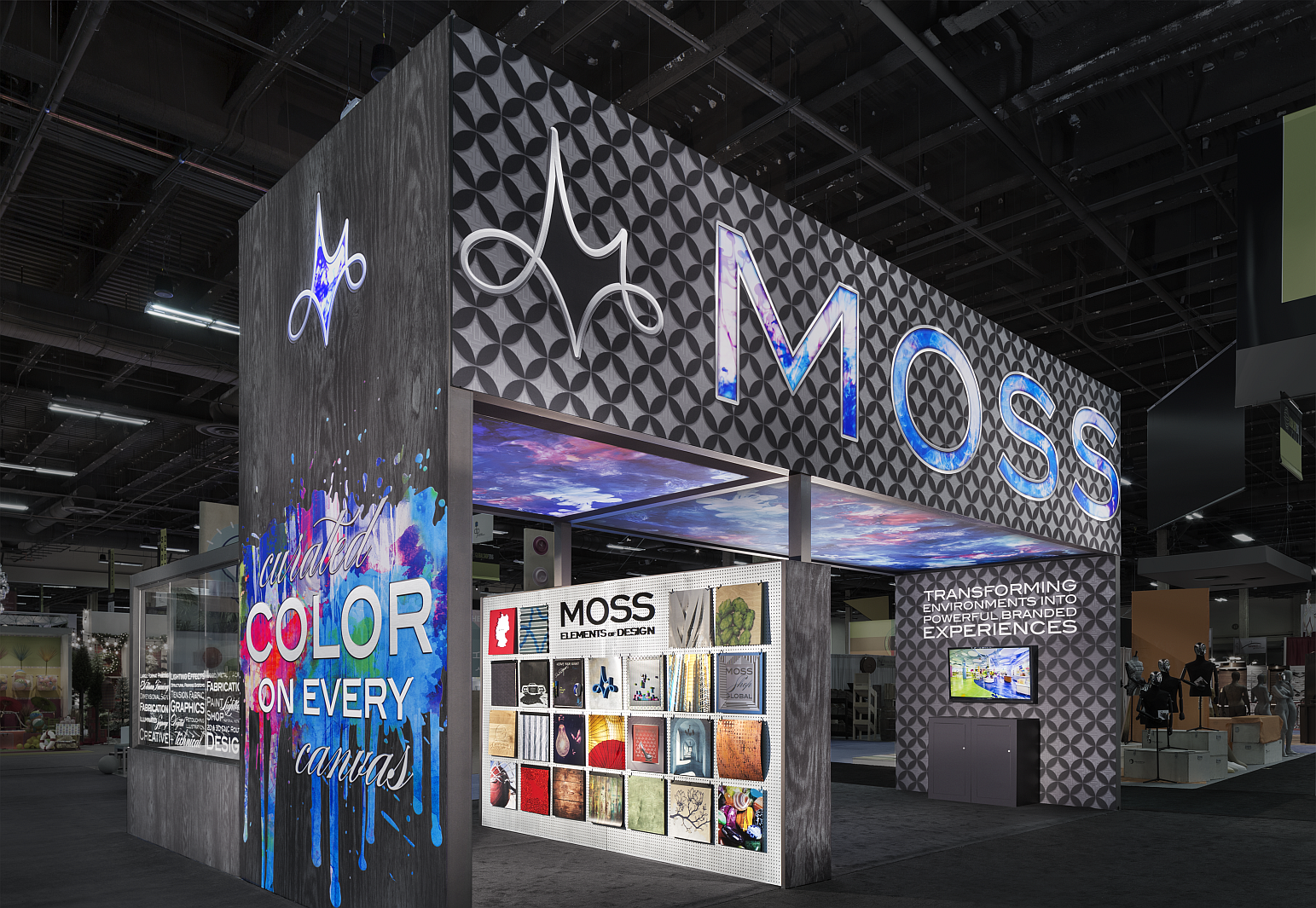 On a mission to showcase the 'what' & 'how' behind Moss Retail's drive to transform environments into powerful branded experiences, we developed an experiential journey that was a feast for the senses and a vehicle to showcase the breadth of our capabilities and powers of our creative design collaboration available to brands, design firms, architects and exhibit builders.
The Construct 120® system was used to deliver a complete sense of place, allowing us to build with height, achieve open gathering spaces, and create ceiling treatments, which are a unique feature among GlobalShop exhibit experiences. The new matte black finish for the Construct was also well-received and paired well with richly-detailed pattern and woodgrain fabric graphics that were largely black and grey with infusions of energetic color; some graphics were imbued with LED backlighting or animated by our latest technology – a proprietary LED media solution that creates custom dynamic 'spot motion' in fabric graphics.
Along with this new animated graphic technology, we featured the new Light Saver lightbox, a value-engineered solution that was used as the ceiling above the Moss Design Lab, which was our dedicated touch-and-feel section for exploring printing, routing and custom rigid fabrication techniques.
We also showcased our Moss Essentials frame line for wall-hung fabric graphic solutions. Essentials frames include the Picture Frame, Slim Frame, and Adaptaframe – which lets you either front-mount a fabric graphic for an exposed frame, or use a slightly larger fabric graphic that instead wraps the frame and tucks precisely into the frame groove that's flush to the wall surface.
While every section of the exhibit had fans and visitors tuned to interaction, the most photographed/videoed area of the exhibit was the central L-shape feature pairing a spot motion animated-graphic wall with an adjacent RGB WebBright™ Lightbox wall. Both technologies created motion, delivered sequences of highlighted colors and made their respective graphics boldly come to life.
These two adjacent branding solutions shared oceanic-themed graphics which proved to be popular with viewers, with this section allowing them to see related yet different dynamic LED effects, and showcasing a wow factor that was of very high interest to the global retail community.
Our new spot motion technology was also featured at a high point on a short end of the booth, like an active beacon that was visible for quite a distance. This animation program featured a treatment of the Moss logo that was dynamically traced with light.
Back in the Design Lab, we highlighted many fabrication and printing techniques, including removable samples hung on pegboard and also a combination of multilayered dimensional signage mounted over a printed fabric graphic. Interactive samples in the lab included a chalk-marker writable substrate and a LEGO board. Particularly, this area offered complete capability exposure to designers and marketers who may have known us more exclusively for fabric structures or more exclusively for rigid fabrications and UV printing.
Around the corner from the lab was our GraFit™ wall section. GraFit is a permanent frame solution for mounting fabric graphics to walls – even grand-format full cash-wrap walls as seen in retail environments. The low visual impact of the frame keeps all the attention on stunning graphics that can be changed out at will via the SEG gasket. We showed this capability with a removable center strip gasket that could be pulled off to reveal a different graphic underneath on "the wall."
Above this area was a long header side featuring an Illuminedge™ Lightbox to highlight our Moss logotype. Also utilized nearby the GraFit section was an exterior perimeter wall that featured printed plexi panels mounted via Construct frame applications. Our capabilities for plexi and glass include first and second surface printing and vinyl PSA applications.
Are you interested in learning more? We are happy to discuss any of the products used in this project or our complete range of fabrication capabilities.